Believe it or not, aside from a brief cameo from the FK2 Civic Type R, there has been no Civic available in Japanese Honda showrooms since 2011. Perhaps Honda Japan has a 7-year itch, we're not sure, but Honda has brought the Civic back to Japan with a bang, a Turbocharged bang !

Honda builds a RHD sedan variant of the new 10th Generation Civic in their Suzuka plant, however all 5-Door Hatchbacks come from the UK plant in Swindon. With the base model DOHC 1.5L Turbocharged Direct Injection power unit being offered with a Manual Transmission next to the CVT version, it's not just the Type R that is getting all of the attention as the 1.5L Turbo model (that comes with a 6MT) is about half the price of the Type R.

Of course we came to see the early Japanese Aftermarket's offerings for the new Type R...
FUJITSUBO Honda Civic Type R FK8
After we got through about 1/3 of the Lobby (entrance) that in itself is bigger than most 'convention centres' in Australia, we decided to dive into the middle of the halls at Makuhari Messe Convention Centre. When we got to the bottom of the escalator we were right in front of the Fujitsubo booth and their FK8 right in front of us. Being that we had come to TAS to check out the new FK8's we thought this was a great start. Wrap-Bros (Japan) had just started a demonstration wrap on the FK8, taking it from the standard Black to a 'camouflage' Hot Pink and Brown (!?!?) wrap. Unfortunately we didnt pass the car again after they had finished the wrap, although we may have walked past it but perhaps the camouflage worked too well.

Fujitsubo were basically here to launch their new Authorize RM+c exhaust system, made from 70mm titanium tubing split into 2x 60mm sections with carbon garnishes. With the standard FK8 exhaust weighing in at ~17.5KG, the Fujitsubo system is just 11.8KG but it's not for the budget-minded FK8 owner at ~350,000JPY plus taxes and shipping !
The rest of the Fujitsubo FK8 is esentially stock aside from BBS R2D2.. oops, I mean R1-D022 wheels in 19x8.5" +35 with Michelin Pilot Sports 245/35ZR19 tyres.
COARZ

Civic Coupe SiFC3
Coarz are a vehicle importer (into Japan) and also after-care specialist. Their USDM 10th Generation Civic Si Coupe was on display - you may have recognised this car from being used for verification of RIGID COLLAR by Spoon. As they are not sold in Australia, finally getting to see a coupe in real life was pretty cool - the shape of the 2-door is much nicer than our droopy-tail sedan but I can't say I'm a huge fan of the colour.
VARIS

Civic Type R FK8
Varis's FK8 was sitting quite low on new Rays TE037 Wheels.
Varis Front Lip Spoiler and Vented Carbon Hood.
Varis Rear Wing Flap in Carbon looks Facory but has a lot more kick ! Those with a good eye may have noticed their Rear Fender Treatment also...
MUGEN

Civic 1.5 Turbo FK7
Mugen had an incredible display at TAS with their Formula car (open wheeler), Super-GT NSX and then they had 2 of the new 10th Generation Civic's on display. We'll cover the controversial Type R concept next, but first the 1.5 Turbo (FK7) which is very impressive in it's own right.

Ever since the 10th Generation Civic Concepts were revealed, many of us have been hung-up on the 'Fake Vents' and so we love Mugen's treatment for this, which is actually very similar to our own concept sketches.

The Front Bumper Garnishes match the Front Under Spoiler which nicely connects the sides of the 'mouth' that are open on the standard car - something that also bothered us with the styling of the standard model. The Dry-Carbon Front Grille featuring the Mugen badge makes the front end ready-for-business.
Mugen's Side Spoiler Set reminds us of their old-school designs but they work nicely with the new body shape. You may not be able to see from this distance, but the Mugen Carbon-Style Door-Handle Garnish Set are there, another subtle styling touch that is also practical.
The new release 'MDC' Alloy wheels in 19x8.5"+45 (with 235/35R19 tyres) look great with the flat black spokes with a machined rim, but they dont look like fun to clean!

Mugen's Tailgate / Roof Spoiler is made from FRP with Carbon inserts, is reminiscent of their old EK4 rear wing and certainly provides ample shade for any rear passengers.
Including rear Side-Strakes and centre Diffuser-stye Garnish, the rear end gets a sporty upgrade over the plain stock FK7 rear design and integrates the Mugen Side-Spoilers (Skirts) to the rear end.
With twin hexagonal-shaped tips, Mugen took a different approach to the dual-exhaust tips for the FK7's Prototype Stainless Steel Sports Exhaust System.
Side-Sill Garnish Set is quite classy yet old-school in design.
Now you may lose your mind over this one, and trust me that the photo doesn't do it justice, the Prototype Machined Alloy Shift Knob is a work of art. Mugen tells us this is purely a PROTOTYPE shift knob and may not ever be released but we think they should definitely put this one into production, no matter what the cost is! It also feels remarkably ergonomic considering the geometric design.
Prototype Engine Push-Start Button, that is now available for the Type R and Base models, has an eerie pulsating glow that makes you think the car is alive ! The catalogue (production) version is Red-face instead of Black.
Mugen RC20 GT FK8
Perhaps the most controversial debut at TAS 2018 was Mugen's Civic Type R concept.
The RC20GT name of the car is quite a mouthful however Mugen has kindly given us an explanation:
R Racing Spirit and Type R, C Circuit spec, 2 Engine displacement, GT because it's a GT-spec machine... is this a hint that we may see it in Super-GT guise such as the CR-Z in the GT500 class?
Love it or hate it, the thing is pretty amazing with full Dry Carbon construction and completely out-of-the-box styling and technology. With the tenth generation Civic having such radical sculpted styling, Mugen has continued the geometric approach to their makeover of the FK8. With such a great platform to begin with, their goal was to maximise the performance through improved aerodynamics with enhanced power and cooling.
The internet went crazy when the first photos surfaced of the Mugen Concept with most opinions based on poor quality phone photos, when you see the car in person, it all just works and looks like it's meant to be, and don't forget this is a CONCEPT car so it's meant to be pretty wild.
The octagonal front grille, sports bumper, front lip, canards and side skirts are all made from dry carbon and make the perfect home for the 3 (!!!) Mugen oil coolers.
The RC20-GT has a similar low drag co-efficient as the standard FK8 however the Mugen aero package creates ~3 times the dowforce of the standard Type R !!!
Mugen has installed their prototype Suspension Kit and have set the car with a -20mm drop in ride height over standard. We love the subtle use of the traditional Mugen colours red, gold and black in the livery accent over the custom satin paintjob that works well next to the exposed dry carbon.
This is our favourite angle of the RC20-GT, highlighting the massive rear wing and functional Lower Diffuser - not the 'Diffuser-Style Garnish' of the production car. Gone are the 'fake vents' and it is amazing how the overall look of the rear end is transformed without them, we still dont understand why Honda has given us the fake vents unless it is to look forward to the facelifted version.
Gone are the factory triple-tip mufflers in favour of a modest single tip, centre-exit sports exhaust with hexagonal aluminium garnish. Unfortunately we forgot to ask to look under the dry carbon hood, but Mugen informs us there is a prototype carbon air-box and sports clutch kit installed.
Mugen's RC20-GT wears prototype 20x8.5" +53 forged aluminium wheels (with a pentagon!) with Michelin 245/30R20 tyres. They barely cover the Mugen Monoblock (2-Piston) Calipers with 2-Piece Slotted Floating Rotors, Mugen Pads and Brake Hose Set.
If you thought the exterior of the car was extreme, check out the interior !
As a kid in the 1980's, I thought this was the modern interpretation of KITT's dashboard from the TV series 'Knightrider' and we're certainly not complaining about that.
This isnt some faux-carbon garnish set, everything you see is real dry carbon fibre !
Note the red-illuminated stop-start button, and octagonal shape machined alloy sports pedals.

The Super-GT influenced steering wheel features rotary-dials for adjusting Boost levels and Fuel mixture (!!!), but it retains Cruise Control. With the geometric theme around the car, and the visual octagonal shape on the display, we think the cowling and screen(s) should perhaps have also been octagonal as they look a little like an iPad and Smartphone have been mounted to the dashboard.
The full-colour digital display reads to 10,000RPM however the 7,000RPM redline has been retained, we dig the boost guage in the centre and it seems Vehicle Stability Assist and Traction Control are by default set to the OFF position !
New Mugen carbon sports bucket seats not only in the front but in the rear also! The front seats feature their new 'Mejikara' logo plus 5-point Harness with Mugen Belt Covers (Pads).
Even the rear has a pair of carbon sports bucket seats integrated to the rear bench and what we assume are panic-handles since there doesn't seem to be a rear harness or seatbelt.
HONDA

Civic Type R FK8
At the Honda stand there was a nice stock FK8 just parked there next to the Civic TCR - perhaps for contrast ?
JAS MOTORSPORT Civic TCR
Italian Motorsports Engineers JAS Motorsport, are teamed up with Honda Europe for the development and production of Honda's motorsport models including the NSX-GT and the Civic Type R. After great success with the previous generation Civic TCR (FK2), JAS have just released their 2018 Civic TCR and it's about as serious as you can get!
You can get an idea of the additional width from the composite wide-body kit from this angle and you may notice the FK8 hood-scoop is missing, replaced by giant vents on either side of the composite hood.

The power unit is based on the factory K20C 2.0L Direct Injection, Turbocharged VTEC in-line 4 cylinder with just a JAS Airbox and Motec M142 (ECU) that puts down about 340HP and 420Nm of Torque to the front wheels via a 6-Speed Sequential Gearbox. With the full competition spec roll cage, seats, Motec display and automatic fire extinguisher system, the TCR weighs in at ~1,256KG apparently including the driver.
18x10" OZ Racing Wheels over the 380mm Rotor, 6-Piston Calipers (Front) 258mm Rotor, 2-Piston Calipers (Rear).
Suspension is taken care of by Ohlins TTX (Front) McPherson Struts and TTX36 (Rear) Dampers plus adjustable anti-roll bars front and rear.
Keeping it simple and functional in the exhaust department, the Civic TCR has a centre-exit single tip, 3" stainless steel exhaust... strictly business !
Although Spoon weren't displaying at Makuhari Messe, we were in town for the Kanpachi Auto Salon - where Spoon had their new FK8 stashed away at Type One. As the Type R was released in Japan almost last in the world, FK8's had only just arrived in Japan a few weeks prior and so Development was already well underway - with many prototype parts hiding on the car here and loads of new parts to be released in the coming weeks and months !
Spoon flew their R&D Team to the United States for summer testing of the FK8 ahead of it's release in Japan, they quickly identified the engine cooling as a big problem with the car when 'sports' driving at the circuit. Spoon has just released their new Aluminium Radiator + Thermostat for the FK8 and in this photo you can see their prototype cooling grille.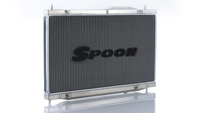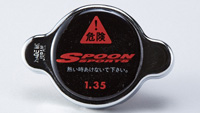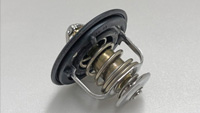 Please CONTACT US for more info on the Cooling system.
Spoon has chosen to run with19x9.5"+45 Prodrive GC-05N Forged Wheels shod in 245/35R19 Bridgestone Potenza RE-71R rubber... however there will be SW388's coming soon in the FK8's 5x120 pattern in 19" and 20" !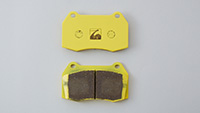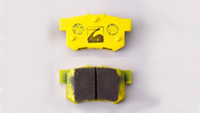 Please
CONTACT US
for more info on the Spoon Brake Pads for FK8.
Not messing around, Spoon has already installed their Steering Wheel and Boss Kit, Duracon 6MT Shift Knob and of course their Carbon Racing Bucket Seat - weighing in at ~5.5Kg the seat alone saves a LOT of weight from the hefty FK8.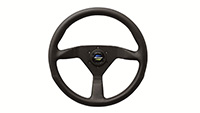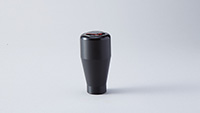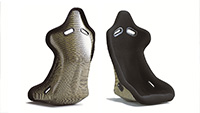 Please
CONTACT US
for more info.
For some strange reason, the thread on the K20C's Oil Cap is different to all other Honda models, so Spoon has just released a new Oil Cap specifically for the FK8.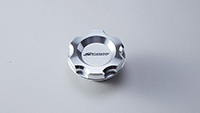 You can see our range of products available for the new Type R at the following link, we're adding new parts each week as they are released - so check back regularally for updates: FK8 Parts
Bede Grainger