This trip to Japan was booked at the last minute, but it wasn't to go to Tokyo Auto Salon or Snowboarding (although we did those also) it was for Spoon's 30th Anniversary event - Kanpachi Auto & Art Salon!
We'd been working behind the scenes with Spoon Co., Ltd. for some months on the planning of the event, and it was to be much more than just a car show - it was to be an expression of the 'Spoon philosophy' that would encompass more of the culture side of the brand rather than just the cars.
After a 14 hour layover in Denpasar airport (not recommended to stay in the airport the whole time LOL) we had finally arrived in Tokyo and after a shower and some Segafredo coffee, it was straight over to Spoon HQ in Ogikubo.
Each year, thousands of foreign visitors (gaijins) are in Tokyo for the Tokyo Auto Salon and many of the Honda fans visit Type One also.
'Kanpachi Dori' is the name of the street that both Spoon Headquarters and Type One are situated on, with staff and fans always making the ~1.5Km pilgrimage from one location to the other, most of the time on foot, on this occasion we were lucky enough to take the 'Spoon Limousine' (ie. Delivery Van) down to Type One with Jomoto San behind the wheel. The name 'Kanpachi Auto & Art Salon' was given to tie the event to the location (street name).
We arrived at Type One and downstairs staff were busy preparing the display and vehicles for the event that would start tomorrow (Thursday), one of the first things I wanted to see was Spoon's brand New Civic Type R (FK8) as since Japan was among the last in the world to take delivery of the new Type R, they had only received the FK8 and FK7 Civic a few weeks prior but were already well underway with R&D on the new platform (after sending their Staff to the United states for 40 days)... and there she was, over in the corner... more detail to follow in another post :)
Spoon has been putting a lot of development into the new 10th generation Civic's 1.5L Turbo engines - available in Japan as quite a sporty alternative to the Type R (and economical at about half the price!) with a 6 speed Manual Transmission unlike Australia where we only get the CTV Transmission.
Spoon has a protoype Carbon Hood here and have used a 3M Carbon Wrap for the Nose, Roof and Mirrors, giving the FK8 the familliar Spoon demo-car 'panda' look.
We can't go any further without our first real-world encounter with the new SW388 wheels in 18x8.5"+45 that have just been released for sale for 5x114.3 hubs - they look absolutely amazing in person and weigh just 7.3Kg per wheel !! The SW388 perfectly clear the new Spoon 6-Piston Monoblock calipers that will take a 300-330mm Rotor - coming very soon !
Up the flight of stairs (or the car-elevator if you are lucky LOL) sits the mighty Spoon E-AT 'Wonder Civic' Group-A racecar parked at the entrance to the showroom to be the first thing guests saw as they arrived at Level 1.
It was a glorious sea of Spoon Blue and Yellow everywhere !!!
Last-minute touches on the 3 iconic Spoon Civic hatches: E-AT Group-A, EG6 and EK9... more detail to follow on these cars in another post.
The Spoon EK9 really pulls off the 17" Spoon CR93 wheels in Spoon Yellow (that are now discontinued), especially over the Spoon Monocoque Calipers with matching anodised blue Spoon Wheel Nuts.
The Carbon Roof Spoiler on the Spoon EK9 was originally modified to fit the #95 Spoon Fit (GK5) Race car from the 2013 Super Taikyu (endurance racing) season, which is why it features the Gaijin-Garage decal and gurney-flap.
The Spoon EG6, of course our favourite - we're hoping she will be wearing new SW388's perhaps in 16" very soon.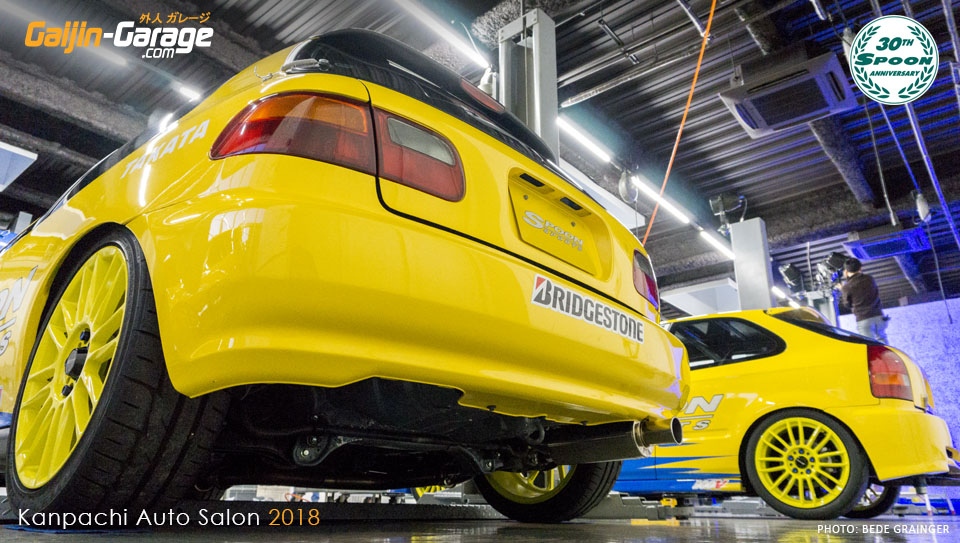 Go-Tuning / Spoon USA have retired their Global Time Attack contender and shipped the Center* Drive Civic over from the United States which had been delayed in Customs so it only arrived late in the afternoon. Actually, this is not the first centre-drive Civic to wear the Spoon livery - those of you hardcore fans may remember the Spoon 'GT-Civic' (EG) from the last century.
*of course the correct spelling is 'centre' however this wild conversion was performed in the United States and that's how they spell it over there HAHA.
From one turbocharged K20 Honda to another - Spoon's brand new 2018 Civic Type R (FK8) test vehicle... spot the prototype part(s).
Check-in to our FK8 parts page HERE to see parts as they become available for the new Type R.
Spoon has chosen to run with19x9.5"+45 Prodrive GC-05N Forged Wheels shod in 245/35R19 Bridgestone Potenza RE-71R rubber... however there will be SW388's coming soon in the FK8's 5x120 pattern, perhaps even 19" and 20" !
The interior of the FK8 already sports a Spoon Steering wheel with Boss Kit, Spoon Carbon Racing Bucket Seat with Spoon Alloy Side Stay Brackets, Audio-Delete and of course a Spoon duracon Shift Knob. The Spoon Seat weighs just 5.7Kg so that alone saves a lot of weight from the relatively heavy 10th generation Civic. Take a look at our range of Spoon Accessories HERE.
It was getting late after a very long day but it was time to crawl back to our Hotel. Downstairs, the FK7 was finally ready and the protective film peeled off from the Spoon-livery flooring ready for the crowds tomorrow. We left Type One with some of the staff still setting up but we'd be back in the morning.
Kanpachi Auto Salon

THURSDAY
Kanpachi Auto Salon was open on the Thursday, Friday and then the main party on Saturday night. We headed over to Type One in the morning so we could help set up and then work at the event to take care of the many international fans (gaijins LOL) we hoped would come to the event.
The first thing that hit visitors when you walk through the roller-doors on the street level, was the Spoon Civic FK7 (1.5L Turbo, 6MT).
As you can see in the photo above, to the right of the entrance, were 2 Gran Turismo Sport Simulators, set up with the choice of just 2 cars - a Civic Type R FK2 and also a new NSX-GT3 (NC1) - both cars with Official Spoon Livery that was co-designed with Gaijin-Garage and Polyphony Digital !
email us for instructions how to download the Official Spoon Liveries to your own Gran Turismo Sport profile...
Upstairs the Type One staff had done an amazing job getting the cars and displays all ready for the visitors... We weren't certain if anybody would come however before the doors opened at 10:00am we already had people waiting to get in... gulp!
The doors opened and then we had a constant stream of visitors all day !
Spoon race driver and all-round top bloke - Taketoshi Matsui - dropped in to congratulate Spoon on their milestone. We caught up with Matsui San and asked him which was his favourite of the Civic's on display, we were hoping he'd say the EG6 but he chose the EK9 - very interesting !
I was busy running around doing my live stream of the event that I hope some of you enjoyed as much as I did.
Just before we crossed to Mr Ichishima on our live stream - it was getting late in the day and in the middle of winter, the sun goes down fast at about 5-5:30pm with the doors to close at 6:00pm. The crowd was starting to thin out and we thought we would close the doors soon and go for drinks after a busy day...
We spoke too soon...
A tour bus of gaijins had just arrived and we sure weren't going to close the doors - we had a second wind of energy and again it was at full-throttle!
Mr Ichishima was very happy to pose for selfies and sign autographs, Leah San helped to translate and make sure everyone had an opportunity to meet the Spoon President. If you spot yourself in any of these photos, please send us an email and we'll send you a high-res photo.
I'm sure thousands of photos were taken, dozens of autographs signed, and hundreds of smiles on dials were had !
After doors closed, we went out to dinner with Spoon and the crew from Eat Sleep Race (USA) and OAK Club (Thailand) at an underground bar in Shinjuku... it was a fun night with exchanges of our travel tales and of course, the infamous 'horsepower upgrades' for ESR Brian and Gaijin-Garage Bede... yes, we tried Horse Sashimi !
Brian from Eat Sleep Race is a brave brave man, we estimated a top-end gain of ~5HP.
Kanpachi Auto Salon SATURDAY
On Friday we were off to Tokyo Auto Salon for the Press-Day so we didn't get any shots from Type One but we hear it was very busy again.
Saturday was the big one - the 30th Anniversary Party !
All staff were running around setting up everything for the big event before we opened the doors to the public.
Full AV system was taken care of by K.R.R. Sound Crew, with the DJ's, Entertainment, Artists and Catering to follow - it was going to be a big night !
We've posted this old EG6 Hood before for obvious reasons, but it even received a coat of Auto Glym Show-Shine, to be displayed proudly in the main showroom...
You may see some flower arrangments in the background of the photos - all week Spoon were receiving these traditional Japanese gifts from Friends and Partners.
Once the doors opened again, Leah San and myself would be running around taking care of gaijins etc, so we took a moment for a quick selfie...
I think we're done.. ready to open the doors...
...Just in time as there was a huge queue forming that ran down Kanpachi Dori for quite some distance with more people still arriving from all directions !
The Roller-door slid up at 3:30pm on the dot, with Mr Ichishima there to greet everyone personally as they entered...
A lot of people were in shock to meet the Spoon President as soon as they arrived - Welcome to Kanpachi Auto Salon !
Basically from this point it was rev-limiter through all gears until the end of the night !
Once you get inside the doors on the ground floor of Type One you're greeted with the FK7 Spoon Civic, FK8 Civic Type R, Go-Tuning's FD2 Centre-Drive Civic and Gran Turismo Sport Simulators in the corner to the right.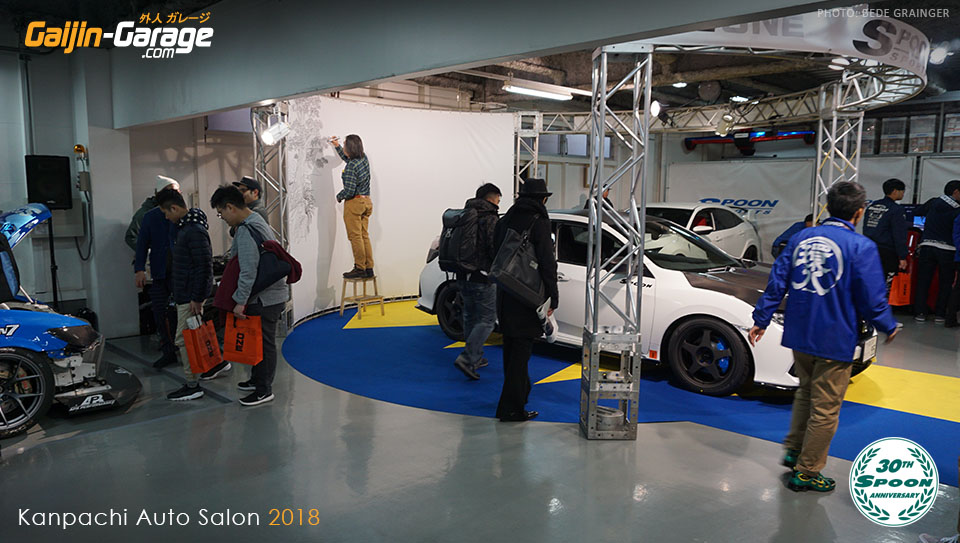 With a big task infront of him, artist and friend of Spoon, Hiromi Karishu got started on his live-drawing demonstration immediately on the centre-stage. His live-drawing was so captivating, it seemed to hypnotize many people that stopped to watch and the end result is truly incredible.
A constant stream of Spoon Fans from Japan and all over the world up and down the stairs until closing time (very late!)
Our good friend Hiroshi Numata braved leaving his sick wife Naoko San at home alone to come to Kanpachi Auto Salon. Hiroshi San sent us some of his awesome photos. Ironically, the Civic has not been on sale in Japan for the past 7 years (!!) so one of the main concepts for the event was to show the evolution of the civic through the ages, hence the E-AT, EG6, EK9, FD2 then the new FK7 and FK8.
As the sun went down there was more and more people crowding in to the top floor ahead of Ichishima San's crowd address and interview.
Yasuhiko Tanabe from Best Motoring / Hot Version / GT Channel Japan and long time friend of Mr Ichishma, was given the task of interviewing the founder of Spoon. Unfortunately for us gaijins, the whole interview was in Japanese however we're working on adding subtitles to our video of the presentation.
The presentation went through the ages from a very very young Ichishima San test-piloting the Cub for Honda, through to the 80's and 90's, featuring some amazing and previously unseen photos from back in the day - including this shot of the Spoon EF9 #95 Race Car !!!
For those of you have seen the THUNDERBOLT movie, you would have seen the Spoon EG6 featured in the main race, with the Spoon Team involved in a lot of the stunt driving and Technical consultation for the film, here we see the star of Thunderbolt, Jackie Chan, take time out for a photo with Ichishim San.
With the good memories come some that are not quite so great, like the infamous Macau-GP incident, caused by another competitor's exhaust manifold falling off (!!?!) and landing right on the racing line, with the notoriously narrow circuit with walls on both sides, there was nowhere to go and the header ended up taking out the Spoon NSX-GT.
Of course Mr Ichishima was ever grateful for the incredible support from the fans over the years and offered his sincere thanks to all of the supporters as without the Fans, there is no Spoon!
Now with the formalities out of the way, it was time to party - Spoon Style !
We've made the pilgrimage to Type One so many times over the years, however being here with this party atmosphere, music, art, food and drinks - was very surreal indeed. Draft Beeru and Wine was provided by Spoon and there was some amazing freshly made food available from sashimi to stew.
We mentioned that people from many countries and backgrounds had come to Kanpachi Auto Salon, but also many ages.
It was great to get around and meet likewise hardcore Spoon Fans from all over the world, to be talking to people that are on the same page is a lot of fun. Despite my efforts, I was not able to pry these tow hooks from the owner's hands - but I tried !!
It was just after talking to those guys above that we went outside and as some kind of weird and wonderful coincidence, there was a mint 96 Spec in the traffic jam out front of Type One. It was driven by an older lady who had about 20 giant gaijins all run out into traffic (!!) and surround her car taking photos and drooling all over the place, only in Japan would this lady not be surprised by this kind of thing going on.
Back inside and upstairs the party was just getting into full-swing with a special appearance from TANGO the 17 year old (!!!) Pug with his daddy and friend of Gaijin-Garage, Shuichi Furuta. You guys may have seen our posts of Shuichi San's Spoon'ed black CL7 Euro-R with over 400,000kms and used almost every night to tear up the mountain passes.
Fom left to right, Anthony from Taikyu (Spoon EU), myself from Gaijin-Garage (Spoon AUS), Aaron from Go Tuning (Spoon USA) and Dhanaphatana from OAK Club (Spoon TH).
Karishu San had finally finished his masterpiece just in time to join the party upstairs - when you stand in front of the piece, the artwork gives an sense of harmony and balance - inline with the core Spoon values.
Upstairs, the artwork was not quite so peaceful but a fantastic and energetic live performance by Genta Kosumi who was painting to a live drummer Tatala Yavz ! There was also some monitors featuring performance art media by Yusuke Shibata. Check out Kosumi San's Facebook Page
Kosumi san literally put his whole body into the performance and was quite exhuasted at the end of his performance - the crowd thoroughly enjoyed this spectacle !
Imamura San joined us for a quick photo - he was the man behind the concept and organisation of the entire event and had been rushing around all night taking care of everything and everybody ! We are grateful to him for a wonderful night and a truly once-in-a-lifetime experience.
Back downstairs, it was time to pack up and restore Type One to operational duties. We wanted to offer our thanks to the Spoon Fans that came from all over the world to help us celebrate Spoon's 30th Anniversary - and a special thanks to everyone behind the scenes that helped make the event a possibility.
After it was over, everyone went out for dinner to celebrate the closing of Kanpachi Auto Salon - the event was a great sucess but we were all completely exhausted! We staggered into the restaurant in Ogikubo, a regular for Spoon Staff, and even at 10:30pm we were able to be seated for dinner.
I'm not a food-blogger or anything but the sashimi here was incredible !
Type One mechanics finally joined us after closing Type One and locking up but they caught up fast - Kanpai ! Kanpai ! Kanpai !
On the following Monday, it was business-as-usual at Type One with no signs at all of the huge party just a couple of days earlier.
That concludes our coverage of the Spoon 30th Anniversary event, we hope you enjoyed it half as much as we did and we'd just like to thank again everyone that was involved in the organisation and running of Kanpachi Auto Salon !
Bede Grainger