■ ACCESSORIES SPOON WHEELSSW388
---
Spoon began development of the World's lightest aluminium wheel in partnership with Desmond Corporation in 1994. After 2 years of development to achieve the weight of 3.88KG per 15" wheel, the original SW388 was released in 1996. Production ended in 1999 with the closing of the Russian Press Factory.
Due to popular demand from our Customers, Spoon has now developed a revised wheel taking into consideration strength, weight, aftermarket caliper clearance and modern sizes/specs. Spoon worked with the original designer, using the original technical drawings of the SW388 from 1994, keeping the style of the original wheels combined with modern manufacturing processes and higher-grade materials to bring you a wheel that is superior to the original.
Gaijin-Garage took receipt of the first set of SW388 in 15x6.5" +35 (4x100), mounted with Yokohama Advan AD08R in 205/15R50.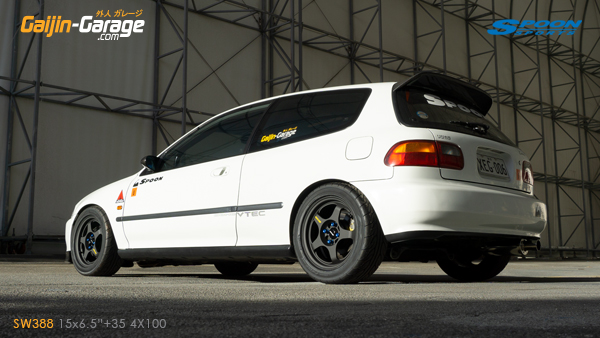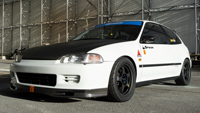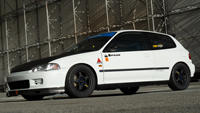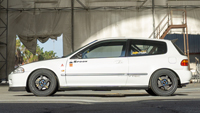 PLEASE NOTE: Spoon yellow spoke decals sold separately.
SW388 is also available for the 10th Generation Civic in 18x8.5 +45 (5x114.3) for the FK7 and FC1 / FC2 1.5 Turbo...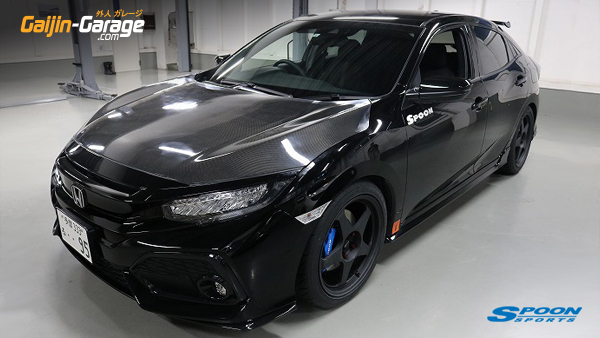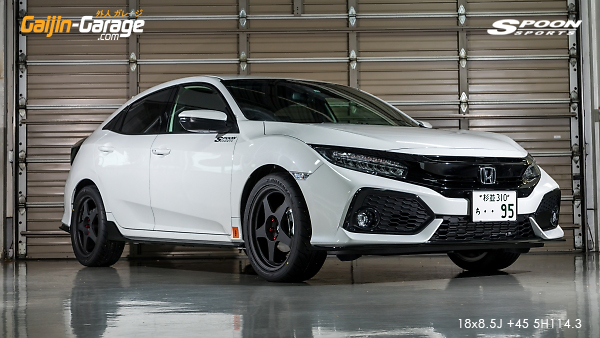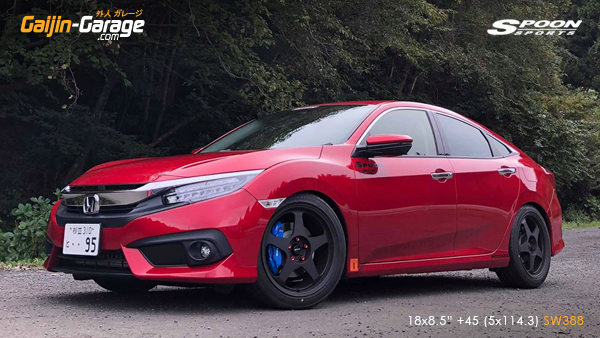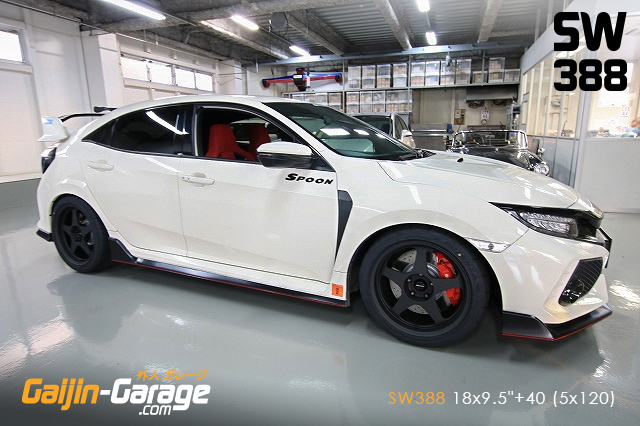 Prices listed below are the item price - does not include shipping / handling or relevant taxes - Please for shipping price or any other questions.
All prices listed are in AUD (Australian Dollars). International Customers please contact us for pricing ex-Tax. Please read our for more information.
| | | | |
| --- | --- | --- | --- |
| | PLEASE NOTE: Prices do not include shipping or relevant taxes. Please CONTACT US for shipping prices. | | PRICES FROM |

---

■ WHEELS

---

SW388 [15x6.5" +35 4X100] EG6, EK4, DC2 *NEW*

Spoon began development of the World's lightest aluminium wheel in partnership with Desmond Corporation in 1994. After 2 years of development to achieve the weight of 3.88KG per 15" Wheel, the original SW 388 was released in 1996. Production ended in 1999 with the closing of the Russion Press Factory.
Due to popular demand from our Customers, Spoon has now developed a revised wheel taking into consideration strength, weight, caliper clearance and modern sizes/specs. Spoon worked from the original drawings and designer of the SW388 from 1994, keeping the style of the original wheels combined with modern manufacturing processes and higher-grade materials to bring you a wheel that is superior.

■ ~4.3KG Per Wheel
■ ANTHROCITE BLACK (Anodized Matte Black) the traditional Spoon finish is ligther and stronger than Paint
■ MADE IN JAPAN by Taneisya
■ Manufactured by Forge Cutting Method for maximum strength and minimum weight
■ Contoured Hub-Face - Grooves cut on mounting face of the wheel provides natural even load dispersion to the hub, and improves the fastening strength to the Wheel. This reduces the burden of shock absorption through the hub and knuckles. By being pulled outwards, the accuracy of the central axis after installation is increased. Also designed to prevent loosening of the hub-Bolts
■ Centre cap sold separately
■ Clears Spoon Twin-Block Calipers without need for Spacer !
■ AVAILABLE NOW (June 2018)


42703-1565-45
CONTACT US
(each)

---

SW388 [15x6.5" +45 4X100] EF9, GD3, GE8, GK5, JW5 *NEW*

Spoon began development of the World's lightest aluminium wheel in partnership with Desmond Corporation in 1994. After 2 years of development to achieve the weight of 3.88KG per 15" Wheel, the original SW 388 was released in 1996. Production ended in 1999 with the closing of the Russion Press Factory.
Due to popular demand from our Customers, Spoon has now developed a revised wheel taking into consideration strength, weight, caliper clearance and modern sizes/specs. Spoon worked from the original drawings and designer of the SW388 from 1994, keeping the style of the original wheels combined with modern manufacturing processes and higher-grade materials to bring you a wheel that is superior.

■ ~4.3KG Per Wheel
■ ANTHROCITE BLACK (Anodized Matte Black) the traditional Spoon finish is ligther and stronger than Paint
■ MADE IN JAPAN by Taneisya
■ Manufactured by Forge Cutting Method for maximum strength and minimum weight
■ Contoured Hub-Face - Grooves cut on mounting face of the wheel provides natural even load dispersion to the hub, and improves the fastening strength to the Wheel. This reduces the burden of shock absorption through the hub and knuckles. By being pulled outwards, the accuracy of the central axis after installation is increased. Also designed to prevent loosening of the hub-Bolts
■ Centre cap sold separately
■ Clears Spoon Twin-Block Calipers without need for Spacer !
■ AVAILABLE NOW (June 2018)


42703-1565-45
CONTACT US
(each)

---

(15x8 +35 5H114.3 pictured)

SW388 [15x8" +35 4X100] EF9, EG6, EK4, EM1, EJ8 *NEW RELEASE*

Spoon began development of the World's lightest aluminium wheel in partnership with Desmond Corporation in 1994. After 2 years of development to achieve the weight of 3.88KG per 15" Wheel, the original SW 388 was released in 1996. Production ended in 1999 with the closing of the Russion Press Factory.
Due to popular demand from our Customers, Spoon has now developed a revised wheel taking into consideration strength, weight, caliper clearance and modern sizes/specs. Spoon worked from the original drawings and designer of the SW388 from 1994, keeping the style of the original wheels combined with modern manufacturing processes and higher-grade materials to bring you a wheel that is superior.

■ ~5,24KG Per Wheel
■ ANTHROCITE BLACK (Anodized Matte Black) the traditional Spoon finish is ligther and stronger than Paint
■ MADE IN JAPAN by Taneisya
■ Manufactured by Forge Cutting Method for maximum strength and minimum weight
■ Contoured Hub-Face - Grooves cut on mounting face of the wheel provides natural even load dispersion to the hub, and improves the fastening strength to the Wheel. This reduces the burden of shock absorption through the hub and knuckles. By being pulled outwards, the accuracy of the central axis after installation is increased. Also designed to prevent loosening of the hub-Bolts
■ Centre cap sold separately
■ Clears Spoon Twin-Block Calipers without need for Spacer !
■ PRE-ORDERS NOW (ETA Late August 2019)


42703-1580-354
CONTACT US
(each)

---

SW388 [15x8" +35 5X114.3] EK9, DC2 *NEW RELEASE*

Spoon began development of the World's lightest aluminium wheel in partnership with Desmond Corporation in 1994. After 2 years of development to achieve the weight of 3.88KG per 15" Wheel, the original SW 388 was released in 1996. Production ended in 1999 with the closing of the Russion Press Factory.
Due to popular demand from our Customers, Spoon has now developed a revised wheel taking into consideration strength, weight, caliper clearance and modern sizes/specs. Spoon worked from the original drawings and designer of the SW388 from 1994, keeping the style of the original wheels combined with modern manufacturing processes and higher-grade materials to bring you a wheel that is superior.

■ ~5,44KG Per Wheel
■ ANTHROCITE BLACK (Anodized Matte Black) the traditional Spoon finish is ligther and stronger than Paint
■ MADE IN JAPAN by Taneisya
■ Manufactured by Forge Cutting Method for maximum strength and minimum weight
■ Contoured Hub-Face - Grooves cut on mounting face of the wheel provides natural even load dispersion to the hub, and improves the fastening strength to the Wheel. This reduces the burden of shock absorption through the hub and knuckles. By being pulled outwards, the accuracy of the central axis after installation is increased. Also designed to prevent loosening of the hub-Bolts
■ Centre cap sold separately
■ Clears Spoon Twin-Block Calipers without need for Spacer !
■ PRE-ORDERS NOW (ETA Late August 2019)

42703-1580-355
CONTACT US
(each)

---

(16x7.5 +35 5H114.3 pictured)

SW388 [16X7.5" +30 4X100] EG6, EK4, EM1, EJ8, GE8, GK5 *NEW RELEASE*

Spoon began development of the World's lightest aluminium wheel in partnership with Desmond Corporation in 1994. After 2 years of development to achieve the weight of 3.88KG per 15" Wheel, the original SW 388 was released in 1996. Production ended in 1999 with the closing of the Russion Press Factory.
Due to popular demand from our Customers, Spoon has now developed a revised wheel taking into consideration strength, weight, caliper clearance and modern sizes/specs. Spoon worked from the original drawings and designer of the SW388 from 1994, keeping the style of the original wheels combined with modern manufacturing processes and higher-grade materials to bring you a wheel that is superior.

■ ~X.XKG Per Wheel (TO BE CONFIRMED)
■ ANTHROCITE BLACK (Anodized Matte Black) the traditional Spoon finish is ligther and stronger than Paint
■ MADE IN JAPAN by Taneisya
■ Manufactured by Forge Cutting Method for maximum strength and minimum weight
■ Contoured Hub-Face - Grooves cut on mounting face of the wheel provides natural even load dispersion to the hub, and improves the fastening strength to the Wheel. This reduces the burden of shock absorption through the hub and knuckles. By being pulled outwards, the accuracy of the central axis after installation is increased. Also designed to prevent loosening of the hub-Bolts
■ Centre cap sold separately.
■ Clears Spoon Twin-Block Calipers without need for Spacer !
■ PRE-ORDERS NOW (ETA Late September 2019)


42703-1675-304
CONTACT US
(each)

---

SW388 [16X7.5" +30 5X114.3] EK9, DC2, DC5, EP3 *NEW RELEASE*

Spoon began development of the World's lightest aluminium wheel in partnership with Desmond Corporation in 1994. After 2 years of development to achieve the weight of 3.88KG per 15" Wheel, the original SW 388 was released in 1996. Production ended in 1999 with the closing of the Russion Press Factory.
Due to popular demand from our Customers, Spoon has now developed a revised wheel taking into consideration strength, weight, caliper clearance and modern sizes/specs. Spoon worked from the original drawings and designer of the SW388 from 1994, keeping the style of the original wheels combined with modern manufacturing processes and higher-grade materials to bring you a wheel that is superior.

■ ~X.XKG Per Wheel (TO BE CONFIRMED)
■ ANTHROCITE BLACK (Anodized Matte Black) the traditional Spoon finish is ligther and stronger than Paint
■ MADE IN JAPAN by Taneisya
■ Manufactured by Forge Cutting Method for maximum strength and minimum weight
■ Contoured Hub-Face - Grooves cut on mounting face of the wheel provides natural even load dispersion to the hub, and improves the fastening strength to the Wheel. This reduces the burden of shock absorption through the hub and knuckles. By being pulled outwards, the accuracy of the central axis after installation is increased. Also designed to prevent loosening of the hub-Bolts
■ Centre cap sold separately
■ Clears Spoon Twin-Block Calipers without need for Spacer !
■ PRE-ORDERS NOW (ETA Late September 2019)


42703-1675-305
CONTACT US
(each)

---

SW388 [18x8.5" +45 5H114.3] FC2, FC3, FK7, FN2, FD2, CL7 *NEW*

Spoon began development of the World's lightest aluminium wheel in partnership with Desmond Corporation in 1994. After 2 years of development to achieve the weight of 3.88KG per 15" Wheel, the original SW 388 was released in 1996. Production ended in 1999 with the closing of the Russion Press Factory.
Due to popular demand from our Customers, Spoon has now developed a revised wheel taking into consideration strength, weight, caliper clearance and modern sizes/specs. Spoon worked from the original drawings and designer of the SW388 from 1994, keeping the style of the original wheels combined with modern manufacturing processes and higher-grade materials to bring you a wheel that is superior.

■ 7.3KG Per Wheel
■ ANTHROCITE BLACK (Anodized Matte Black) the traditional Spoon finish is ligther and stronger than Paint
■ MADE IN JAPAN by Taneisya
■ Manufactured by Forge Cutting Method for maximum strength and minimum weight
■ Contoured Hub-Face - Grooves cut on mounting face of the wheel provides natural even load dispersion to the hub, and improoves the fastening strength to the Wheel. This reduces the burden of shock absorption through the hub and knuckles. By being pulled outwards, the accuracy of the central axis after installation is increased. Also designed to prevent loosening of the hub-Bolts
■ Centre cap sold separately
■ Accepts Spoon 6-Piston Caliper without spacer
■ 18"8.5J+45 5H114.3 Specifically for 10th Generation (2017-on) Civic 1.5T with 5x115.3 PCD
■ AVAILABLE NOW (February 2018)


42703-1885-45
CONTACT US
(each)

---

SW388 [18x9.5" +40 5H120] FK8 *NEW*

Spoon began development of the World's lightest aluminium wheel in partnership with Desmond Corporation in 1994. After 2 years of development to achieve the weight of 3.88KG per 15" Wheel, the original SW 388 was released in 1996. Production ended in 1999 with the closing of the Russion Press Factory.
Due to popular demand from our Customers, Spoon has now developed a revised wheel taking into consideration strength, weight, caliper clearance and modern sizes/specs. Spoon worked from the original drawings and designer of the SW388 from 1994, keeping the style of the original wheels combined with modern manufacturing processes and higher-grade materials to bring you a wheel that is superior.

■ 7.7KG Per Wheel
■ ANTHROCITE BLACK (Anodized Matte Black) the traditional Spoon finish is ligther and stronger than Paint
■ MADE IN JAPAN by Taneisya
■ Manufactured by Forge Cutting Method for maximum strength and minimum weight
■ Contoured Hub-Face - Grooves cut on mounting face of the wheel provides natural even load dispersion to the hub, and improoves the fastening strength to the Wheel. This reduces the burden of shock absorption through the hub and knuckles. By being pulled outwards, the accuracy of the central axis after installation is increased. Also designed to prevent loosening of the hub-Bolts
■ Centre cap sold separately
■ Accepts Spoon 6-Piston Caliper without spacer
■ 18"x9.5+40 5H120 Specifically for (2017-on) Civic Type R (FK8) with 5x120 PCD
■ AVAILABLE NOW (October 2018)


42703-1895-40
CONTACT US
(each)

---

■ WHEEL ACCESSORIES

---

CENTER-CAP [SW388] ALL *NEW*

Spoon Sports Centre Cap for use with SW388 wheels.

■ Features Spoon Sports Logo
■ Center Bore 67mm
■ AVAILABLE NOW (February 2018)

42703-CP01-BK
CONTACT US
(each)

---

STICKER 01 / YELLOW [SPOKE DECAL FOR SW388] ALL *NEW*

Genuine Spoon Sports spoke decal (Yellow).

■ AVAILABLE NOW (November 2018)

42703-ST01-YW
CONTACT US
(each)

---

SPOON CRO-MO WHEEL NUT M12 [BLACK] EF9, EG6, EK9, EP3, FN2, FD2, FK5, FK7, FC1, FC2, DC2, DC5, AP1, AP2, GD3, GE8, GK5, ZF1, NA1*NEW RELEASE*

Spoon has developed new motorsport-spec CRO-MO WHEEL NUTS !! Of course they are Black to match your new SW388's, featuring the Spoon Logo and are now open-ended to suit extended Hub Bolts. Made in Japan from super-strong (yet lightweight) Chromium Molybdenum Steel, available in M12 x 1.5 pitch.

■ Set of 16 (16 PCE)
■ M12 x 1.5 pitch - perfect for Honda
■ 60° Taper / for Aftermarket Wheels
■ Released April 2019



ALL-90304-C12
CONTACT US

---

SPOON CRO-MO WHEEL NUT M12 [BLACK] EF9, EG6, EK9, EP3, FN2, FD2, FK5, FK7, FC1, FC2, DC2, DC5, AP1, AP2, GD3, GE8, GK5, ZF1, NA1*NEW RELEASE*

Spoon has developed new motorsport-spec CRO-MO WHEEL NUTS.
Of course they are Black to match your new SW388's, featuring the Spoon Logo and are now open-ended to suit extended Hub Bolts. Made in Japan from super-strong (yet lightweight) Chromium Molybdenum Steel, available in M12 x 1.5 pitch.

■ Set of 20 (20 PCE)
■ M12 x 1.5 pitch - perfect for Honda
■ 60° Taper / for Aftermarket Wheels
■ Released April 2019



ALL-90304-C12
CONTACT US

---

SPOON CRO-MO WHEEL NUT M14 [BLACK] FK8 *NEW RELEASE*

Spoon has developed new motorsport-spec CRO-MO WHEEL NUTS.
Of course they are Black to match your new SW388's, featuring the Spoon Logo and are now open-ended to suit extended Hub Bolts. Made in Japan from super-strong (yet lightweight) Chromium Molybdenum Steel, Available soon in M14 x 1.5 pitch for your FK8

■ Set of 20 (20 PCE)
■ M14 x 1.5 pitch
■ Specifically for 2017-on Civic Type R (FK8)
■ 60° Taper / for Aftermarket Wheels
■ Not suitable for use on Standard Wheels



ALL-90304-C14
CONTACT US

---

SPOON WHEEL NUT [BLUE]

M12 x 1.5 pitch - perfect for Honda.
60° Taper.
SPOON: 21.13g
HONDA: 31.65g

ALL-90304-000
CONTACT US

---

SPOON WHEEL NUT [RED]

M12 x 1.5 pitch - perfect for Honda.
60° Taper.
SPOON: 21.13g
HONDA: 31.65g

ALL-90304-001
CONTACT US

---

SPOON WHEEL NUT [SET OF 16]

M12 x 1.5 pitch - perfect for Honda.
Set of 16.
60° Taper.
SPOON: 21.13g
HONDA: 31.65g

CONTACT US

---

SPOON WHEEL NUT [SET OF 20]

M12 x 1.5 pitch - perfect for Honda.
Set of 20.
60° Taper.
SPOON: 21.13g
HONDA: 31.65g

ALL-90304-000
CONTACT US

---